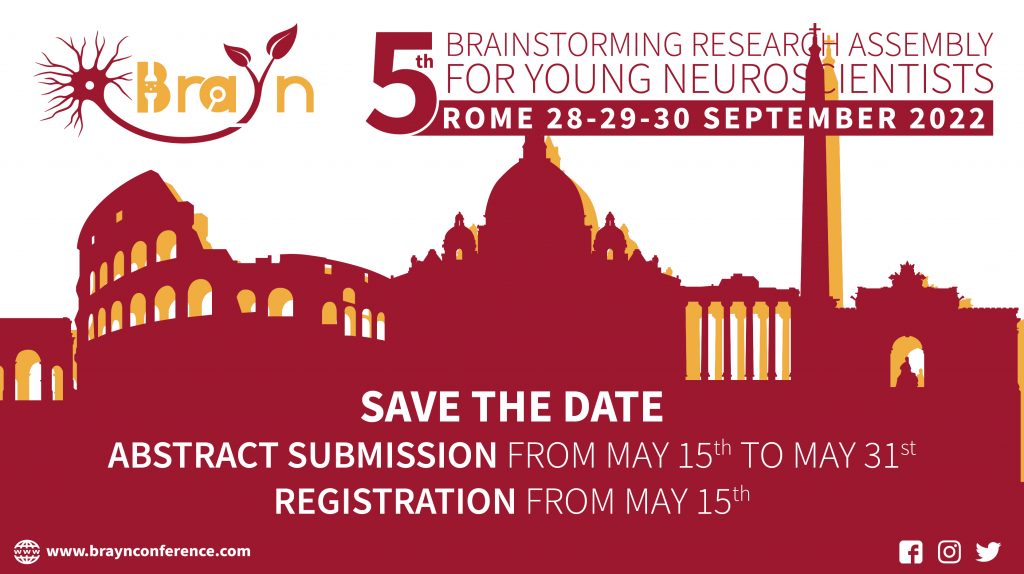 Call for Abstracts
By submitting an abstract of your research, you agree to share your work either as a talk or as a poster to be presented or exhibited at the congress.
The abstracts will be peer-reviewed by the Scientific Committee, which reserves the right to select them for oral or poster presentation.
The results will be notified by email to the submitting author in early July 2022.
Submission Rules
Please read carefully the following guidelines for the abstract submission:
The presenting author must be registered at the conference (here) before submitting the abstract;
The presenting author must be a member of the BraYn Association (please fill in the form here);
Font: Times New Roman, 12pt, 1.5pt line spacing, the text should be justified;
The abstract may not exceed 2000 characters including spaces;
All abstracts must be submitted and presented in English;
All abbreviations used must be defined the first time they appear in the text; Do not include tables, figures or references;
Do not use paragraphs, indentations or tab stops in the text body;
Please make sure that the abstract you upload contains ONLY the main body of the abstract. Title, authors' names and their affiliations must be added exclusively by filling out the submission form;
A maximum of 2 abstracts may be submitted per presenting author.
Poster Presentation
The Poster Sessions will be three and they will take place on:
Poster session 1, November 25th 18:00-20:00;
Poster session 2, November 26th 15:45-17:45;
Poster session 3, November 27th 10:50-11:50.
All presenting authors are kindly invited to hang up their posters at the beginning of the session and remove them as soon as the session finishes. We recommend to be present at their poster during the poster sessions. Please note that there is no printing service at the conference venue. Posters must be printed prior to the conference.
Poster Guidelines
The maximum acceptable size for a poster is 70×100 cm and should be in portrait format (vertical orientation). Please use a clear typeface, as the poster should be readable from a distance of 1-2 meters.
Thanks to EU-BRAIN we are delighted to inform you about the 3 PRIZES that you may win at BraYn conference:
Best Oral presentation: 500 €
Best Poster presentation: 250 €
Best oral/poster presentation on PAEDIATRIC NEUROSCIENCE & PERINATAL NEUROLOGY: 500 €
In addition, thanks to Frontiers, the winners of the best oral presentation and best poster presentation prizes awarded during the conference will also have a 30% discount on the publication fees for an original paper or review submitted to the Research Topic: Cell-Cell Interactions Controlling Neuronal Functionality in Health and Disease.
More info here.